Best Bluetooth speakers: Reviews and buying advice
11 min read
Bluetooth speakers were once like jelly beans: They were cheap, they all looked the same, and they were invariably of dubious quality. Luckily, those days are over. Every major audio manufacturer has at least one model on the market today, most have several, and some offer exceptional audio performance. Of course, there's still plenty of dreck floating around, and that's where we come in.
We've picked the best Bluetooth speakers in six categories: budget, mid-range (up to $300), outdoor, bookshelf, high-end (yes, there are ultra-high-end Bluetooth speakers), and even a price-is-no-object selection. Some of our picks can be used indoors and out, but we've also named our favorites that are designed primarily as outdoor speakers.
Updated on July 26 to remove the now-discontinued Soundcast VG7 and to add a runner-up pick in the best portable category.
Best Bluetooth speakers for every situation and budget
Tronsmart Element Force SoundPulse — Best budget Bluetooth speaker
Pros
Surprisingly rich, full sound in Extra Bass mode
Soundfield extends beyond the physical enclosure in Extra Bass mode
Small and lightweight
Two can operate as a wireless stereo pair
Strong weatherization (it's rated IPX7)
Cons
3D Stereo and Standard EQ presets sound thin and weak with no stereo spread
Does not automatically go into standby mode even after hours of inactivity
The Bluetooth speaker market is a cutthroat business when you get to this price range. The good news for music lovers is that you can find some very good products here. We can't say enough good things about the Tronsmart Element Force SoundPulse, which features IPX7 weatherization, support for True Wireless Stereo (so you can operate two of them as a stereo pair), and absolutely fantastic sound (in Extra Bass EQ mode, that is). That's a lot of speaker for just 60 bucks.
Read our full
Tronsmart Element Force SoundPulse Bluetooth speaker review
Sonos Move — Best outdoor Bluetooth speaker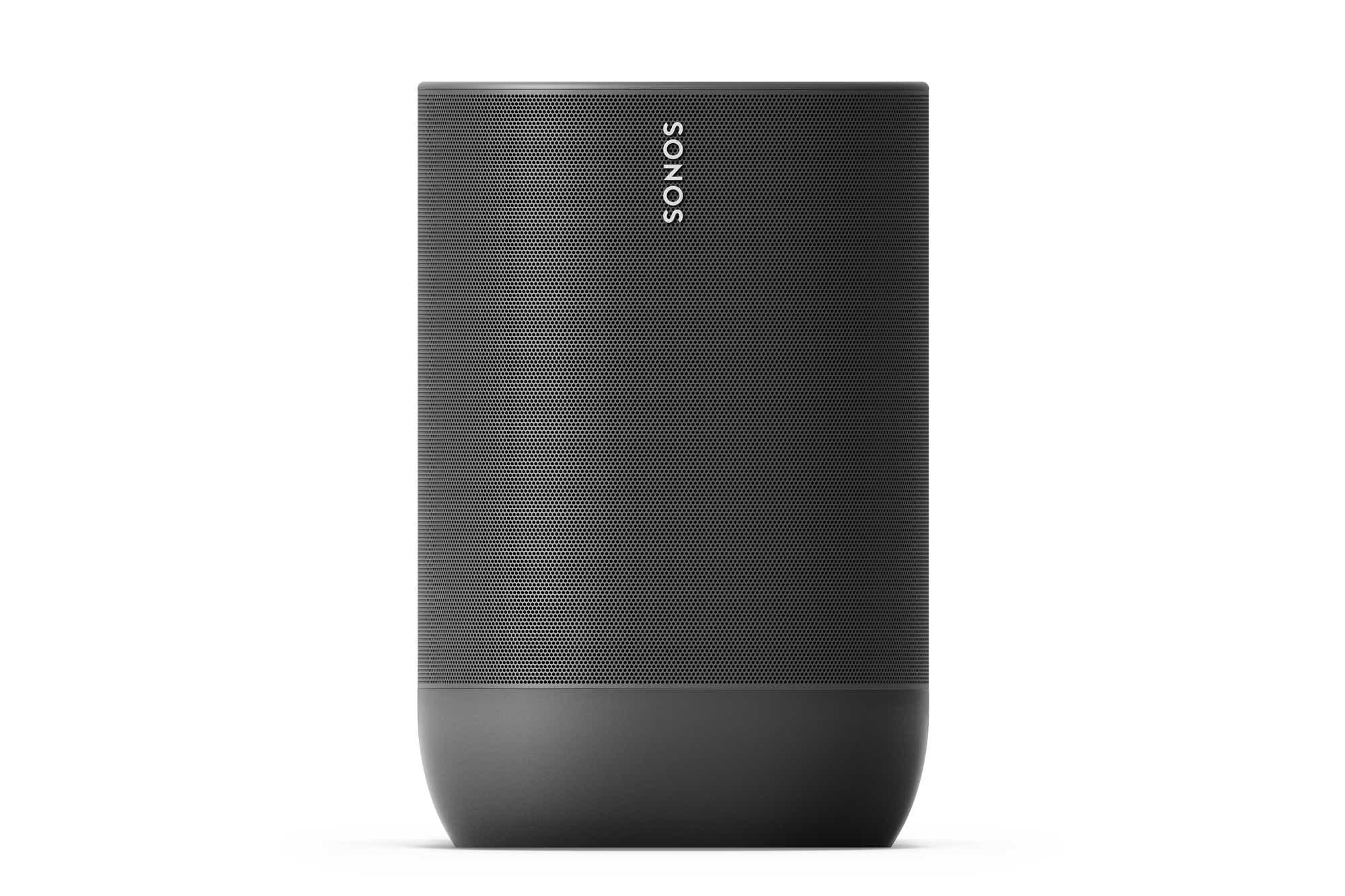 Pros
Fantastic audio performance, indoors and out
Automatic Trueplay optimizes audio performance for wherever the speaker is playing
Amazing range while operating over Wi-Fi
Long battery life and smart battery-charging tech
Cons
Highly directional sound stage (it's wide, but not circular)
No support for the aptX or aptX HD Bluetooth codecs
Limited to 16-bit/48kHz resolution
Sonos hit a home run with its first portable Bluetooth speaker. Equipped with a handle, the six-pound Move is as heavy as a bowling ball, but it packs superb audio performance aided by an optimized version of Sonos's Trueplay technology. The Bluetooth- and Wi-Fi-enabled Move also offers impressive wireless range and long battery life.
Read our full
Sonos Move review
Sonos Roam — Best portable Bluetooth speaker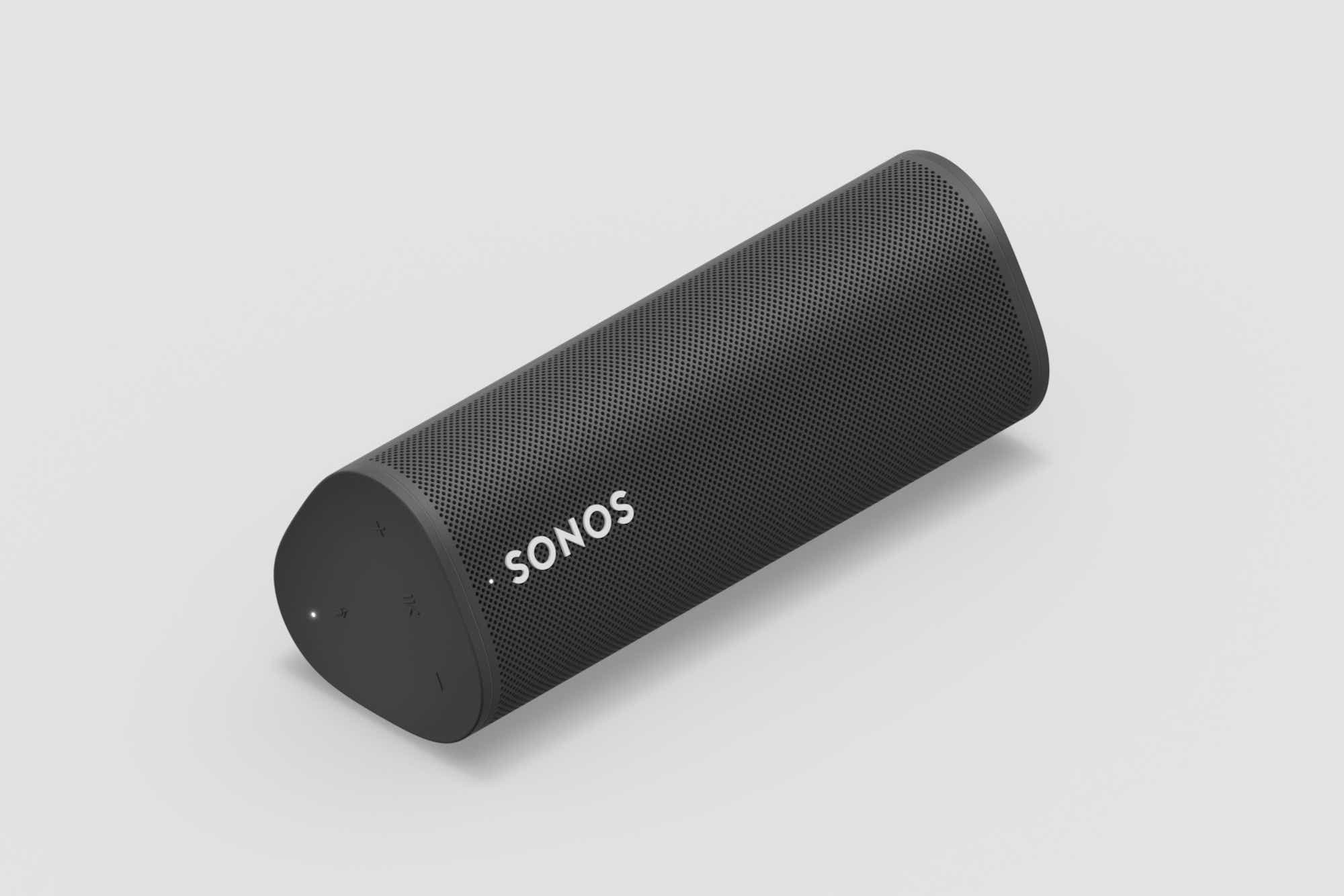 Pros
Exceptional sound for its size
Auto Trueplay works over Bluetooth
Sound Swap feature lets you "swap" music with other Sonos speakers
Small and light, with a waterproof design
Cons
Slow wireless charging (at least with third-party chargers)
Sound Swap doesn't work across Wi-Fi, Bluetooth, and AirPlay 2 modes
Small, lightweight, packed with great networking features plus your choice of Alexa or Google Assistant, the sweet-sounding Sonos Roam can connect to other Sonos speakers on your home Wi-Fi network, or via Bluetooth when you're out and about. Both rugged and waterproof, the Sonos Roam is only about the size of a 500ml water bottle and weighs slightly less than a pound, yet it manages to crank out exceptional sound with a surprising amount of bass–not as much bass as Sonos's other portable speaker, the Move, but the latter is a much bigger and heavier speaker.
Read our full
Sonos Roam review
JBL Charge 5 — Best portable Bluetooth speaker, runner-up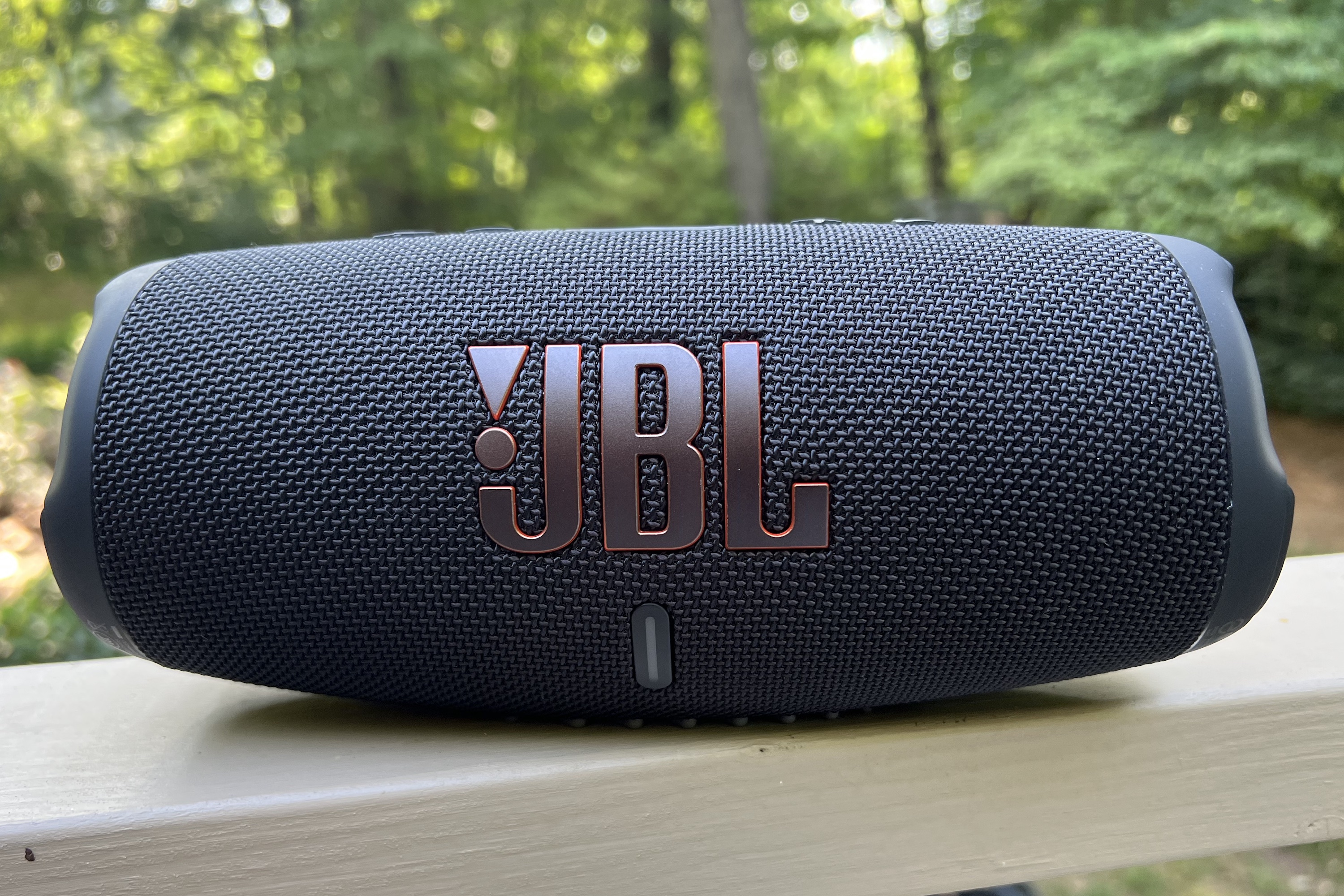 Pros
Dustproof and waterproof
Gets incredibly loud without distortion
Solid battery life
Easy-to-use controls
Cons
Expensive for its size
No speakerphone
No AUX input
The Charge 5 sits in the middle of JBL's portable Bluetooth speaker lineup–it's bigger than the Charge 4 but a whole lot smaller than the hulking Extreme 3. Our reviewer praised the speaker for its ability to play extremely loud without crossing over into distortion, as well as how well the manufacturer protects it from the elements (its IP67 rating means it can be submerged in up to one meter of water for up to 30 minutes).
Read our full
JBL Charge 5 review
Soundboks Go — Best Bluetooth speaker for big outdoor parties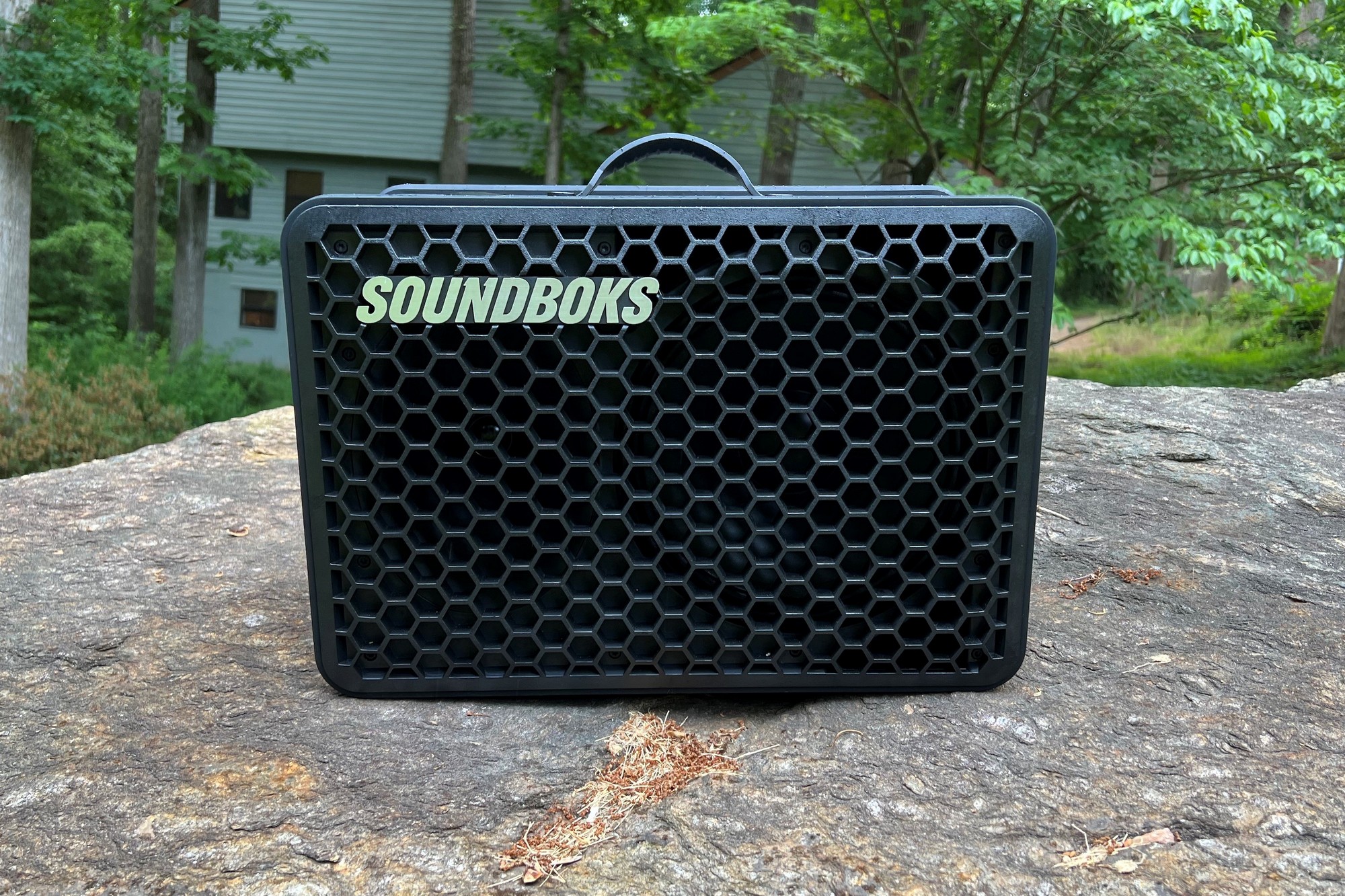 Pros
Impressive volume without distortion
Sturdy, weatherproof construction
Excellent stereo sound when paired
Cons
Initial pairing was a challenge
Limited inputs
No support for high-res codecs such as aptX or LDAC
The Soundboks Go isn't the kind of grab-and-go speaker you take for a picnic in the park, but for those times when you're looking to entertain a lot of people in a big outdoor environment, there's nothing quite like it. Resembling an old-school PA system, this large, rugged, weatherproof, battery-powered Bluetooth speaker impressed us with its ability to get loud without distortion, and you can pair two of them for a fantastic stereo experience.
Read our full
Soundboks Go review
Fluance Ai61 — Best Bluetooth bookshelf speakers
Pros
Bluetooth, analog, digital, and USB connectivity
Very good sonics
Attractively designed
Cons
No balanced analog audio input
Looking for high-fidelity audio on a budget? Fluance's Ai61 replace the older Ai60 as our top pick in mid-priced Bluetooth speakers. These are bookshelf models that deliver true stereo performance, and they provide a host of connectivity options, both analog and digital—they'll even perform as a USB audio device when connected to a personal computer. Our reviewer favorably compared them to the Yamaha studio monitors he relies on for professional mixing sessions. Highly recommended.
Read our full
Fluance Ai61 Bluetooth bookshelf speakers review
Sonus faber Omnia — Best high-end Bluetooth speaker
Pros
Incredibly beautiful design
Impeccable audio performance
Analog and digital sources, including MM turntables
Dual-band Wi-Fi, with Apple AirPlay and Chromecast
Tidal Connect, Spotify Connect, and Roon Ready compatibility
Cons
Quality and craftsmanship comes at a high price
Remote control doesn't rise to the same level
Boasting a beautiful mid-century-modern design aesthetic, the Sonus faber Omnia wireless speaker looks every bit as beautiful as it sounds. And while most people will connect this high-fidelity wireless audio system to their Wi-Fi network to take advantage of its Tidal Connect and Roon Ready features, Bluetooth is a great option to have when guests visit and want to play the music on their smartphones, so you don't need to hand out your Wi-Fi credentials or concern yourself with setting up a guest network.
Read our full
Sonus faber Omnia review
Q Acoustics Q Active 200 — Best price-is-no-object Bluetooth speaker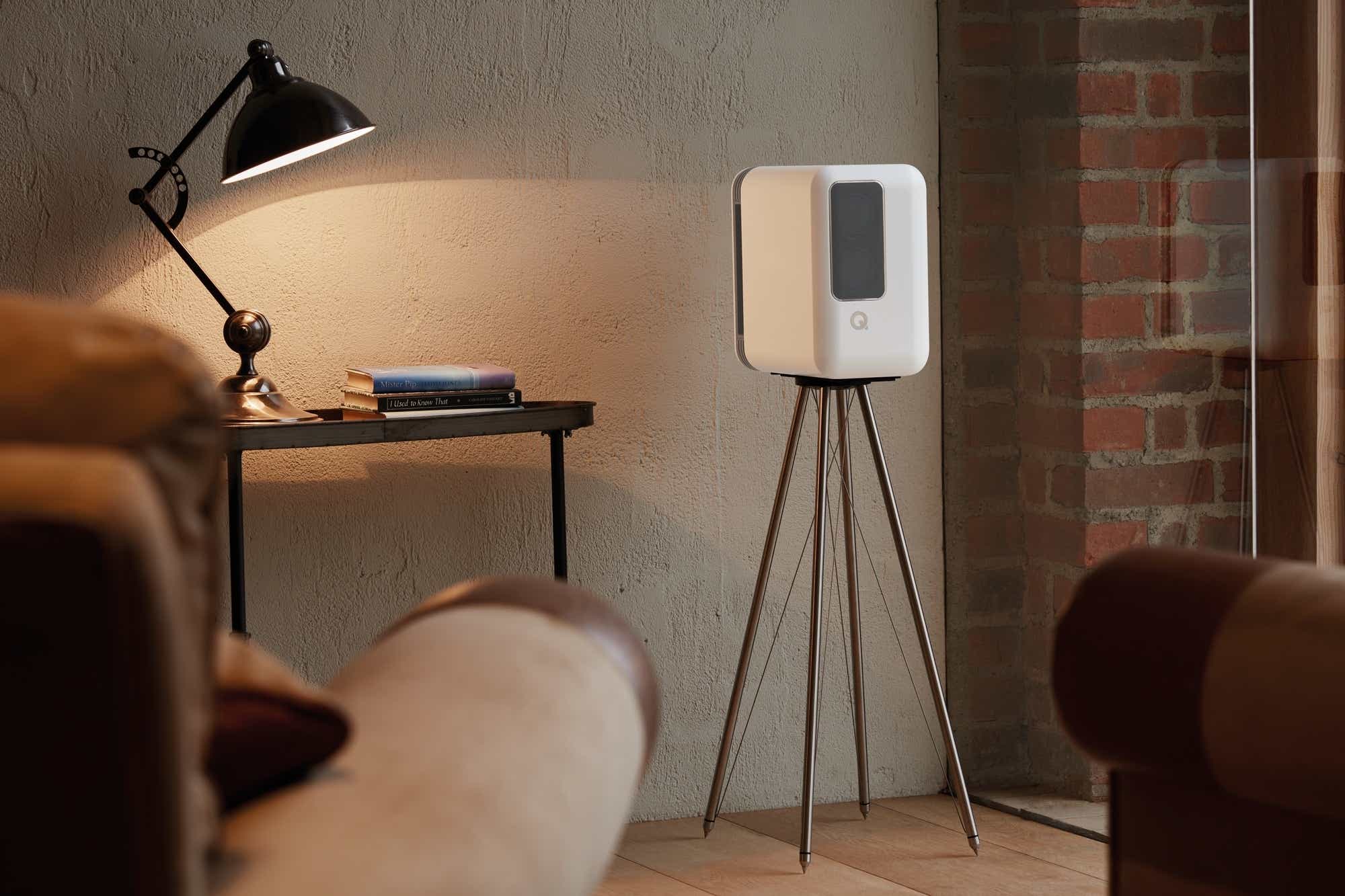 Pros
Impeccable high-resolution audio performance
Handles just about any audio source, analog or digital
Roon Ready
Clean power to spare
Cons
Stereo only, there's no support for any surround-sound formats
Optional stands are optimal, but they're also very pricey
Bluetooth support is probably the Q Acoustics Q Active 200's most mundane feature. This full-fledged audio system consists of a pair of high-end self-powered speakers and a wireless hub that can handle any audio source you can think of. Bluetooth is just one of the Q Active 200's many connectivity options, along with Wi-Fi, AirPlay 2, and Chromecast, which means you can incorporate the speakers into a high-fidelity multi-room audio system. Yep, the Q Active 200 is expensive, but its high price tag is justified.
Read our full
Q Acoustics Q Active 200 review
Features to look for in a Bluetooth speaker
Not convinced the picks we've listed above are exactly right for you? This guide will help you sort through the facts, figures, and specs to determine which speaker will best meet your needs. Your first decision will be to choose between mobile and stationary form factors. The majority of Bluetooth speakers are portable because they get paired with mobile phones, but more and more manufacturers are introducing models designed to remain inside the home.
Choosing a portable model gives you the best of both worlds in some respects, but a stationary speaker is more apt to blend into your home's decor. And while we've heard some pretty spectacular portable Bluetooth speakers, a plug-in model is more likely to produce the sound you're looking for if fidelity is priority one in your book.
Here are the features you'll want to evaluate in a Bluetooth speaker:
App support: Companion apps can provide lots of additional features to a speaker that wouldn't be possible with just physical buttons on the speaker itself. The app might enable more than one person to be the DJ, queuing up songs to play on the speaker. An app might enable you to create customized EQ curves for different styles of music, create wake-up alarms, or power the speaker on and off remotely.
aptX support: Bluetooth audio must be squeezed down in order to stream over the airwaves, and the default codec use lossy compression that throws some of the musical data away. Qualcomm's aptX codec is lossless, so none of the musical detail is lost in the process. The latest version of aptX–aptX Adaptic–supports loss streaming at up to 24-bit audio at 96kHz. But aptX must be present at both ends of the stream, in the playback device and in the speaker. Most Android devices support aptX, but Apple devices do not.
Battery life: Next to fidelity, a portable speaker's most important feature is how long it can operate when it's not plugged into the wall. You should expect a battery to last 10 to 20 hours, but remember that the bigger the battery, the heavier the speaker will be.
Charging options: If your speaker has a battery, it will need to be charged. Speakers that charge their batteries via a USB port are more convenient than models that require an AC adapter, but larger batteries might not offer that option. Some speakers also let you plug in a USB cable to tap their battery to charge your smartphone.
DSP: An onboard digital signal processor (DSP) lets you electronically change how the speaker is driven in order to compensate for speaker placement or the acoustical properties of your room, among other things.
Mounting options and accessories: A portable speaker should be easy to take with you. While some Bluetooth speakers count on their size to make them easy to grip, others provide a lanyard, carabiner clip, or a shoulder strap. It's even more handy when the manufacturer provides standardized sockets and accessories for mounting the speaker to an object, such as your bike's handlebars.
Speakerphone: Some Bluetooth speakers have built-in microphones that enable you to use the speaker as a speakerphone in concert with your smartphone. The sound quality will be much better than what you'll get from your phone, and you'll be able to turn the volume up much higher. This can be very handy for conference calls.
Stereo pairing: Some speakers let you create a left/right stereo pair with two speakers. tTis works best, of course, when the two speakers are identical.
Weatherization: Portable Bluetooth speakers can be used indoors and out, so the best models provide some protection from the elements. Ideally, the manufacturer will let you know just how much protection you can expect by providing an IP (International Protection) marking. The first digit rates the enclosure's protection from particulate matter (e.g., dust) and the second digit rates its protection against liquids.
An IP64 code, for instance, indicates that the speaker is completely protected from dust (6) and from water splashed onto it (4). The higher the numbers, the more protection you can expert. IP67, for instance, means the speaker is not only immune to dust, it can be submerged in up to one meter of water for up to 30 minutes. If either digit is replaced by an X, the code indicates that the speaker isn't rated for protection from that element. particles (this doesn't necessarily mean that it's not protected from things like dust, just that the manufacturer doesn't rate its protection). IPX4, for example, means the manufacturer makes a claim for protection from liquids, but not from particulates.
Wi-Fi: Higher-priced Bluetooth speakers also provide the option of connecting to your Wi-Fi network, so that you can stream music from a NAS box and/or connect directly to streaming music sources such as Spotify or Qobuz. Wi-Fi streams will offer higher fidelity than Bluetooth, even if the speaker supports the aptX codec. A speaker that provides for a hardwired network connection is all the more versatile.
Wireless range: A Bluetooth speaker's range depends on the power class of its radio, and it can vary widely and is impacted by the environment that it's operating in. A Class 1 radio offers range of approximately 100 meters, but the number of walls between the Bluetooth source and the speaker and the type of materials in those walls will have a significant impact on range. It's much easier for radio waves to pass through drywall than masonry, for instance. Objects in the signal path, such as large metal appliances, will reduce that range even further.
Bluetooth speakers that didn't make the cut
The beautifully designed Beyerdynamic Space boasts outstanding call quality and is easy to use, but its qualities as a music speaker are only good, not great, and it can't stream in the higher-quality AAC or aptX formats.
The dust- and water-resistant Tribit StormBox Micro 2 pumps out a lot of volume for its size and sounds surprisingly good given its $60 price point. But while this pint-sized monophonic speaker is perfect for tethering to the handlebars of a bike, it's not really intended for serious listening sessions. 
A compact PC soundbar, the Mackie CR StealthBar arrives with a compact design and crisp audio, along with Bluetooth, USB-C, and 3.5mm connectivity, and we're fans of its removable, height-adjustable feet. That said, the reasonably priced StealthBar suffers from a narrow soundstage, while its passive radiators struggle with deep bass.
The IPX7-rated Tronsmart Splash 1 is perfect for bringing tunes to the beach or the pool, and it promises up to 24 hours of playback time. But if you're expecting stellar sound from a $30 Bluetooth speaker, you're barking up the wrong tree; instead, expect good audio rather than great.
The loftily priced Bang & Olufsen Beosound Level boasts a gorgeous design, swappable internal components, and best-of-breed audio fidelity. That said, it's crazy expensive, and our reviewer was miffed by the speaker's finicky performance on a mesh Wi-Fi network.
The Bose SoundLink Flex is one of the better-sounding monaural speakers we've tested, with a fair amount of boom and a compact, water-resistant design. But the similarly sized and only slightly pricier Sonos Roam has the SoundLink Flex beat with its Wi-Fi and multi-room connectivity, not to mention your choice of built-in Alexa or Google Assistant.
The Audioengine HD3 is a fine-sounding desktop speaker system with excellent build quality. But as with many Bluetooth speakers this small, the bass is a bit weak (a subwoofer would have helped), and it's limited to 16-bit/44.1 or 48kHz input, shy of high-resolution audio support.
The small, IP67-rated Sony SRS-XB13 Bluetooth speaker is as good as it gets for its diminutive size, delivering more bass than its rivals. Still, the speaker's bass is somewhat limited, and it can't get all that loud, meaning it's not much of a party speaker.